Table Talk with KC and Joe is a weekly segment airing every Monday on Fox 8 News Now featuring host KC O'Day and booking producer Joe Skura talking about latest celebrity news, trying new and weird products, and having fun banter to begin the show.
You can watch FOX 8 News Now every Monday through Thursday on FOX 8 at 12:00 pm and 10:35 pm following FOX 8 News at Ten.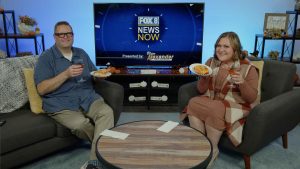 KC and Joe enjoy some "Altoona-hotel style" pizza today during Table Talk. KC grew up with Altoona pizza, and Joe...