Meet anyone interesting lately? Join us every Wednesday for Coffee with KC airing on Fox 8 News Now as area people share a coffee and their unique stories with KC O'Day. 
Coffee with KC is sponsored locally by Greenbean Coffee House. Greenbean Coffee House is a locally owned and operated family business based in Altoona, PA. Their mission is to provide the most amazing coffee, specialty drinks, and food options with outstanding, personalized customer service that is second to none. They proudly offer coffee made with the best beans in the universe. Their goal is to deliver the best coffee you've ever tasted! Click here: Greenbean Coffee House to kick start your morning with them!
You can watch FOX 8 News Now every Monday through Thursday on FOX 8 at 12:00 pm and 10:35 pm following FOX 8 News at Ten.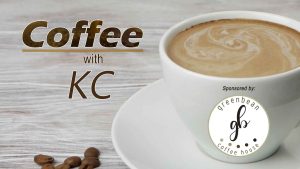 For this week's edition of Coffee with KC at the Greenbean Coffee House in Altoona, KC O'Day is joined by...