This series, hosted by Rich Deleo, features in-depth discussions with local coaches, sports enthusiasts, and experts and covers topics involving high school, college, and professional sports and athletes. You can watch Sports Desk Fridays at 12:00 pm on ABC 23 and 11:05 pm on FOX 8.
Sports Desk is brought to you by Champion Roofing, a "truly" family owned and operated business.  With real professional knowledge and experience, they have 20+ years in the roofing industry with a solid and proven record, backed by 100's of references.  Champion Roofing is so confident in their craftsmanship and the quality of their work that they are the only roofing company to offer a full Lifetime warranty! Visit Champion Roofing for more information.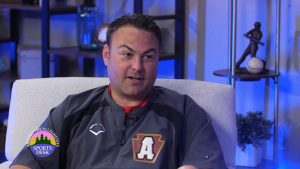 Referee Rich sits down with his first returning guest - Derek Martin, General Manager of the Altoona Curve. Rich asks...